Congratulate yourself for wodding today. Or yesterday. Life is pretty crazy right now and sometimes we forget that the most important thing to keep consistent, for your own sanity, is your workout. Pat on the back.
**************************************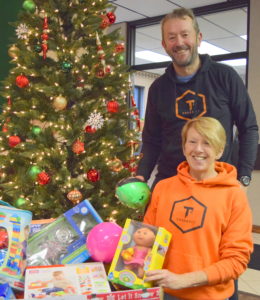 Huge thank you to everyone who donated a toy to the South Fayette Food Bank toy drive. Our box was overflowing when we took it to the township offices on Monday. Paul and I carried in the box to be met with exclamations of "… what a wonderful community you have." So thank you again.
********************************
Saturday, (tomorrow if you are reading this Friday) is our Winter Shindig. Once again, the generosity of our community is shining through. You will understand what I mean when you see the wonderful 'baskets' that have been donated for the Chinese Auction/raffle.
We decided, in the end, that the proceeds from the auction/raffle will be donated to Guardian Angels Medical Service Dogs, Inc. The organization provides service canines to veterans who suffer from physical disabilities or cognitive challenges resulting from traumatic brain injuries and/or post traumatic stress disorder.
The cost of training one of these dogs averages $22,000; this includeds food, veterinary care and 1,500 hours of training. It takes about 2 years to fully train a service dog.
The ultimate goal is to provide a dog for every veteran who needs one so that the average daily rate of suicides will be reduced from 22 to 0.
More information about the Guardian Angels Medical Service Dogs, Inc can be found by clicking this link. And they were featured in several local news outlets in July because 6 veterans from the Pittsburgh area each received a service dog during the summer. News links
Also, * if you have one, proudly wear your ugly sweater; * if you have a game, Jenga, Corn Hole, indoor 10 pin bowling, …. and would like to share just for a couple hours, please feel free to bring that along; * if you are bringing a non-member guest, there is a $10 charge; * tickets for the Chinese Auction/raffle are $1/each or $10/arm's length.
**************************************
Set yourself a goal to achieve before the end of the year : Double Unders. You will make your coaches very happy if they see you practicing and it will help keep the 'singles multiplier' down.
I have been asking around for tips from those members and coaches who have DUBs.
* Practice in front of a mirror or window. At the box, you can use the kettlebell room window; * Keep your elbows tucked into your sides (not clamped but with enough restraint on them to prevent your hands drifting away from your sides); * How high to jump – get a friend to stand on a box or some plates and hold his/her hand above your head, jump singles so that height can be determined then have your partner lift his/her hand half that distance again higher. You jump so that your head makes contact with the hand. That's approximately how high you should jump. There are a ton of "how to" articles/videos on YouTube – here is one http://www.tabatatimes.com/double-unders/
*************************************
Last few items:
Saturday 14 January 2017 – Jon North Lifting Seminar sign up on The Attitude Nation website Definitely worth giving/receiving as a present.
Lurong Challenge Resolution – begins Monday 16 January 2017, registration is open now. If you are new to this and are wondering what it is all about, speak with Anna or ask members, most have done at least one challenge.
Facebook Members Discussion Group – private Facebook page for members only. If you are not in it, send me or Jax Campos a friend request and we will get you in.
Girl Friday Cooking – orders in by Saturday for delivery the following week.
Free 9:00am Saturday Community Workout – needed now more than ever. Get the 'new you' off to an early start for the New Year.
Members' WOD 10:30am as usual.
See you Saturday between 1:00-3:30/4:00pm if not before.
Stay warm.
T2 CrossFit Team