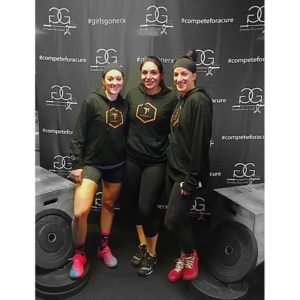 Last Saturday was a very successful weekend for T2 CrossFit at the Girls Gone Rx competition at CrossFit TPA. Team AboutTime T2 CrossFit finished first (Anna Tunnicliffe Tobias, Kylie Gamiler, Gretchen Kittelberger) and Team T2 CrossFit finished 5th (Jax Campos, Ann Talerico, Janelle Hoax) out of 29 teams. Thank you for representing us; we are very proud of you. Apparently Jax's comment when it was over, "OK, when's the next one?"
********************************
Next weekend is Veterans' Day weekend. Please spread the word about our WOD for Warriors event on Saturday, 12 November 8-11am. It is open to anyone, regardless of their athletic ability and whether or not you are a member of a gym or not. It doesn't matter. What matters is that you do your little bit to show support and respect for our veterans. The workout is only 11 minutes long.
You can register ahead of time by following the link here http://t2crossfit.com/warriors/  or you can just turn up on the day to do the workout. Donations will be accepted at that time too.
And if you are wondering, here are the workouts:
11 minute AMRAP (As Many Repetitions As Possible)
11- Power Cleans
11- Burpees Over the Bar
19- Deadlifts
18- Pull-Ups
RX-135/95
Scale as needed
Modified Workout (Without Barbell) 11min AMRAP
11- Push Ups
11- Burpees
19- Sit-ups
18- Air Squats
*********************************
Nag, nag, nag! That's what Coaches Brad and Anna do after every WOD. Why? Because they want us to write our times, weights, reps on the board.  Why? For a couple of reasons. It lets them see and keep track of our progress because they do. So much so, that next time when you ask for advice on what weight to use in a WOD they can confidently tell you that you are capable of adding that extra 5# or to the contrary, reduce your weight to help prevent injury.
And also, by writing your times, weights, reps on the board, the classes following yours during the day can base what weights they use based on what they see up on the board.
An extension of writing your score on the whiteboard, is recording your score on the WOD Blog page. By recording it on this page, it automatically records in your profile.  As we cycle through movements and complete protocols, it is helpful to be able to look back to see where we are at and how much we have improved.
There are Apps out there too which can be used for this purpose. Speak with Brad or Anna to see what they suggest. The Apps are useful if you do a lot of traveling.
**********************************
Thank you to everyone who entered into the spirit (no pun intended) of Halloween and WOD'd in costume. The T2 Kids, Pre-teens & Teens did their costume WOD on Wednesday. And as I mentioned in last week's blog, November is 'bring a friend for one free session' for T2 Kids, Pre-teens & Teens.
*********************************
The fridge/freezer arrived for Girl Friday Cooking meals. It is in the back garage (the exit for our running WODs). If you order food from Gretchen, that is where it will be.
*********************************
Jon North Lifting Seminar, Saturday 14 January 2017, is filling up; spaces are limited. Registration is through Jon's website theattitudenation.com If you would like to go, probably best to sign up as soon as possible.
*********************************
Another Paleo cookie recipe. I make two types of 'oatmeal' cookies; I am told both are good. Here is one of them. I substitute unsweetened shredded coconut for the coconut flour. I would imagine the coconut flour would make them more crisp; mine tend to be a little chewy. I also add a little whole flax seed and a little chia seeds. I spoon small-sized balls onto the cookie sheet and flatten them a little.
Ingredients: *2 C. Almond Flour; *¼ C. Coconut Flour; *½ C. Flax Meal; *½ t. Cinnamon; *1 t. Baking Powder; *½ t. Real Salt; *½ C. Dates(heaping, about 14-15 small dates); *¼ C. Honey; *½ C. Grass-fed Butter, softened *1 t. Vanilla; *2 Eggs; *⅔-3/4 C. Raisins
Instructions:
*Preheat the oven to 325 degrees.
*In a mixing bowl, combine the almond flour, coconut flour, flax meal, cinnamon, baking powder, and salt. Set aside.
*Place the dates in the bowl of a food processor and process until chopped well, forming a paste. Add the honey to the dates and process until blended together. *Add the butter to the processor and blend with the dates and honey.
*Add the vanilla and eggs to the processor and blend well.
*Add the dry ingredients and blend in with the wet until just combined. Add in the raisins(more or less, according to your preference) and stir into the dough.
*Scoop out mounds of dough (2 T. per cookie) and roll into a ball. Place the dough balls on a greased baking sheet and press down to about ½" thickness(cookies will not change shape or spread at all while baking).
*Bake cookies in preheated oven for 13-15 minutes, or until just turning brown on the bottom.
*Remove from oven and cool cookies on a wire rack.
This is the link to the page: http://www.mynaturalfamily.com/recipes/paleo-recipes/paleo-oatmeal-cookies-recipe/
*********************************
Saturday this week will be regular 9:00am FREE community workout followed by the 10:30am Members' WOD. However next Saturday, 12th, WOD for Warriors will replace both of these. So come anyway and get your workout done.
*********************************
And finally,
Well, that was almost finally. This is the final final. Remember to set your clock back 1 hour between Saturday and Sunday.