Fall Brawl – last weekend (Saturday), Ed Hurley finished 9th/49 Rx men category. I went over there to cheer him on, as did many others, and saw one of the WODs. It looked brutal. Well done, Ed. What's next?
*******************************

Now ….. (big fanfare and drum roll)
We are teaming up with Team RWB in remembrance of Veterans' Day. We will be hosting WOD for Warriors, a fund raising workout. We would love for you all to come and support this worthy cause:
"….. All proceeds from this event go directly to supporting Team Red, White and Blue, whose mission is to enrich the lives of America's veterans by connecting them to their communities through physical and social activity."
There is also a nationwide competition between all the hosting gyms; most reps accumulated during the Veterans' Day WOD period, 9-14 November. So the more people who come and workout, even if it is only one rep, it all helps. And if you can't make it on Saturday, 12 November, try to do the workout on one of the other days, tell Anna and she will record your number of reps.
If you would like a t-shirt, please make sure to Register (not just donate) before Tuesday, 1 November at T2 CrossFit's WOD for Warriors Fundraiser  Choose T2 CrossFit as your team.
You don't have to register or donate online. Just come and watch and/or workout to show support. If you are able, you may donate on the day.
Finally, don't be put off by the fact that it is at a CrossFit gym. The folks at WOD for Warriors understand that not everyone is a CrossFitter, so there are two workouts, one for the CF'ers and for the non-CF'ers.
For more information, follow this link.
*****************************************
If you are on social media, Facebook in particular, the old T2 Discussion Page has been shut down. MJ, who set it up and was overseeing it, is removing herself from Facebook. Thank you MJ for your patience and persistence with it.
A new page has been created by Jax Campos, T2 CrossFit Discussion Group. It is for T2 members only. If you would like to be included, please DM on Facebook to one of us, Jax, Anna, Paul Tunnicliffe or me, Joanna Tunnicliffe and we will sort it out.
**********************************
For those new or fairly new to CrossFit: I will be sharing bits of the following article over the next couple of weeks. If you would like to read the whole article now (and spoil the surprise, JK), here is the link: http://www.theboxmag.com/article/a-beginners-guide-to-crossfit-9408
"Starting any new exercise practice can be daunting, but entering a CrossFit box can be particularly nerve-wracking. It's a community rife with demonstrations of hardcore feats of strength and endurance — and, worse, its members speak their own language. To better integrate you, here's everything you need to know to begin your CrossFit life.
When attempting to integrate into any new community, it helps to understand a bit about its members and unspoken rules.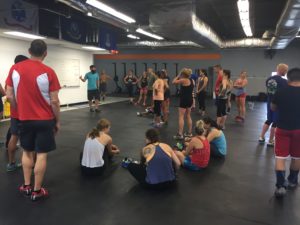 The Language: CrossFit is full of its own lingo, and none is more important than or as simple as the "WOD" (Workout of the Day). Scribbled on whiteboards in CrossFit boxes across the country every morning, the WOD is likely the first thing you'll look for when you walk into your new gym, and it's what your body will remember on your way out. That workout will involve "constantly varied, high-intensity, functional movement" — the theory underpinning CrossFit that makes athletes better, faster and stronger  — and will be the focus of your training that day." …..
Next week, "The Girls" and abbreviations commonly used.
***********************************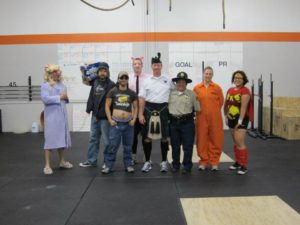 Halloween falls on a Monday. That means that there will be a Halloween Costume WOD. Be creative because you need to be able to workout in your costume. There may be a slight penalty for no costume!
(photo not taken at T2CrossFit)
***********************************
Busy weekend ahead:
Saturday:
8:00A.M. Lurong Challenge repeat Baseline workout 1
9:00A.M. FREE Community WOD – please come; bring a friend
10:30A.M. Members' WOD
Sunday:
Fred Lowe Lifting Seminar – I think there is one spot left if you would like to sign up. Contact Anna.
***********************************
The new T2 sweatshirts should be arriving at the box tomorrow, Friday evening, just in time for the cold weather snap we will be enjoying this weekend. Not sure what time they will be delivered but all being well, they should be available on Saturday morning.
**********************************
Juniors: really would like a contribution from you guys too.
**********************************
And finally ….. today, Thursday 20 October, is our 4 month anniversary from our first official WOD (Monday 20 June).
Have a wonderful and safe weekend.
Joanna