Today was our first attempt at a Chili Cook Off and judging by all the comments made about our Ice Age Chili, it was a success.
This was a last minute engagement (as of last Monday) and we ended up right on the end of the line – literally, we were the end of the line.
But we set up our stall with our kettlebell, dumbbell and rower and waited for customers. Our chili was kept warm in a 'warm box' (don't know the technical name) loaned to us by Stacy of Hazelnut Catering – thanks Stacy – and then over a burner for serving. The cups, spoons and napkins were provided by the Bridgeville/South Fayette Rotary and the Boy Scouts did a fantastic job of making sure we were kept well supplied.
If you didn't make it out today, no worries but I would like to share what was on the menu: Ice Age Chili (make with ground turkey) courtesy of Paleo Nick, with toppings of chopped green onions, chopped tomatoes and Paleo 'sour cream' (which was absolutely delicious – Anna made it). And for desert were Paleo sugar cookies.
Anna did a wonderful job of explaining Paleo and Paul was there to reinforce the "even though it is healthy, it still tastes good, right?" thoughts.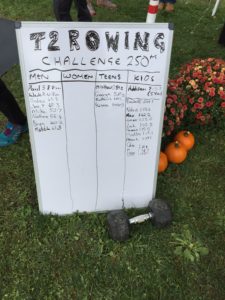 And we had quite a few 'contestants' for our row challenge. It was row 250m as fast as you could. Quite a few of our challengers had actually never been on a rower before, so they went away with a new experience and a feeling of accomplishment.
One gentleman, who rowed the fastest time for his group 'fessed up afterwards to having been a professional rugby player in England before he moved to the States four years ago. I forgot to ask him what he does now.
We had several people come back for seconds, and thirds, and although we were not included in the officially judged competition, we were allowed to be part of the People's Choice competition; we finished 3rd out of 28 booths. Apparently this is quite an accomplishment for a first time participant.
Thank you to everyone who came out today to support T² CrossFit. We have a wonderful community. Hopefully after today, we will be able to welcome even more people in to our family.