The 'Girls'
Last week we met Karen. This week we are meeting Annie. I think I may generalize for almost everyone and say we don't like either of them. And then I got to thinking, …..
Why do we dislike them so much? Why are the CrossFit Workouts named after girls?
According to CrossFit Founder Greg Glassman, he named the benchmark workouts after girls in a similar way to that used by the National Weather Service when naming storms. He felt that these workouts are so physically demanding that they leave you feeling as though a storm hit you.
Greg Glassman on Twitter:
"I think anything that leaves you laying on your back gasping for air wondering what just happened to you should be named after a girl."
Apart from the fact that I think that this is a fairly sexist comment, I also think it is quite funny. More power to the girls! (Not really sure if it is true; it was on the internet.)
Apparently the real reason why they are "girl WODs" is that they were originally named after women whom Greg Glassman trained, e.g. "Annie" that we are doing on Friday, is named after Annie Sakomoto.
But that aside, more questions; Why have these named WODs? Why not just have a really tough scheduled WOD at your own box?
These WODs are also called Benchmark WODs. They are repeatable, every so often, though hopefully not too often and the results are comparable all around the world, so you can compare your performance with someone down the street, someone in Australia, India, Europe etc. And if you keep your own records, you will also be able to see how much stronger/more efficient you are at each subsequent meeting.
So how should you tackle one of these named WODs? Should you try to RX it but only complete a couple of rounds and/or hit the time cap? Or should you scale and complete many rounds and/or finish within the time cap within a minute or two of the elite athletes who complete these? For these, I asked Coaches Brad and Anna for their opinions and advice.
"We should tackle the WODs with a game plan; plan to go hard and be in pain (the good sort obviously).  The girl WODs don't necessarily look too hard but have a cunning way of sneaking up on you.  A good plan, and a back up plan are desirable before beginning the workout, so if something does happen and you start to stray from the good plan, you can dive right into the back up.  Quite often with these workouts, it's easy to think, "Oh, I can go unbroken" but then all of a sudden you realize that you went too big/pushed too hard and now you are stuck struggling at the end. The idea is to push yourself to your limits all the way through – not have that breakdown of form/intensity. They are testers, benchmarks."
So there you have it. It's your choice as to whether or not to go RX but if you do, will you still be moving with the same intensity and effort at the end as at the beginning?
All I can say in conclusion as to why we dislike Karen, Annie and all the other girl WODs, it's got nothing to do with the fact that they are girls, it has everything to do with the short sharp shock effect that they have on our system that truly makes us think, "we are going to die!"
********************************
Hot Stuff
Bridgeville-South Fayette Chili Cook-Off Sunday 2 October, 12-4pm in Fairview Park, S Fayette.
We will be there serving up samples of Anna's favourite chili recipe, Ice Age Chili. We would love to see you there if you would like to come and visit.
********************************
Lurong Challenge Week 3
Wade Roth, as of the end of last week, had eaten something like 84 eggs since the beginning of the Challenge. The hens are working overtime.
No.3 workout will be held at 8am on Saturday again. Gym opens at 7:30am for you to get warmed up and ready to go as the clock strikes 8.
*******************************
FREE Adult Community CrossFit Workout
If you still have energy left after the LuRong Challenge WOD, feel free to stay for the FREE Community workout.
It is open to everyone. Saturday begins a new month. Suggest to someone you know that the beginning of a new month is a good time to try something new – a new beginning to benefit him/her.
*******************************
Hoodies/Sweatshirts 
We will be ordering them next week. If you would like to order one (or more), please sign the sheet on the shelf in the lobby area.
*******************************
WodLife River Games and Classes on Saturday, 8 October
Saturday, 8 October is the first day of the WodLife River Games. We will be open for the Community workout and the members WOD.
*******************************
Saturday, 10 December T2 Holiday Get-together
Mark your diaries (or is it planner?) with the date. It will be an afternoon affair and whole families will be welcome.
********************************
And just because …. I think this is an "Ahh" picture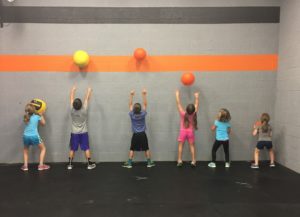 T2CrossFit Kids & Teens – classes are filling up. For more info, email t2crossfitkids@gmail.com
Thank you all for being a part of the T2CrossFit family and community. We are stronger because of you.
Have a wonderful and safe weekend.