What do "Longest Mile", "Flip Flop", and Pedialyte have in common? Read on and you will find out.
**********************************************
Weekend Action
Last weekend was a busy weekend for some of our members. Coach Anna went out west to Denver to assist in a Paleo cooking seminar with Paleo Nick. Jen Hinds took part in the Pittsburgh Tough Mudder team event up in Slippery Rock PA (hopefully she will share her experiences in the coming weeks) and Daniel Blevins and his team took to The Crucible – a 3-day, 70+ mile extreme hike with a full gear pack on the Pennsylvania Laurel Highlands Trail.
But our spotlight this week is shining on John Hansen and Steve Dukes who teamed up with Ethan Helbig from Beyond Parallel Fitness, Cranberry to compete in the Kill Cliff Granite Games 2016 up at St Cloud State University MN. Super Congratulations to them for their performance and 4th/87 teams finish.
I managed to get them to spare us a few minutes to answer some questions to share their experiences.
How was it? The experience? The event?
John: Best experience as a team competition by far. The organization that put together and displayed from the Granite Games was the best I have ever seen and been a part of. Looking forward to going back in the upcoming years.
Steve: The Granite Games was a great experience. The event itself was extremely well run. The facilities were excellent and the other athletes were extremely talented. The workouts were a great mix of skill, endurance and strength.
Is this the first time you have done a team event together?
John: This was the first time that us three, Ethan, Steve and me, have been on a team for a competition.
Steve: For John, Ethan and me, yes. We have trained together for a little over a year but never competed on the same team.

How did you qualify for the finals? (Ed note: I meant to ask, "how did you qualify for the Granite Games but my question was rather ambiguous.)
John: There were no finals to qualify for. It was just a cumulative score over the 3-day period from 10 workouts. (Ed note: at the G/Games)
Steve: The team of 3 Men AsRx division was simply signing up. You had to have done the qualifier as an individual (back in June through July), but the actual division that we were in was secured through paying and registering the team.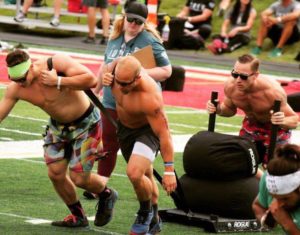 Which was your favorite workout?
John: The "Longest Mile" was my favorite workout. The dynamics of us three together on that event were the best over the entire weekend. We succeed in the long grueling and brute strength workouts.
"Longest Mile" ( this was done after 100yd handstand walk/2min rest/…):
stadium run, 100yd sled push down and back; stadium run, 100yd sled push down and back; stadium run, 100yd sprint to finish.      Time cap: 15 minutes
Steve: "Flip-Flop" Each teammate picked to do one round: (bar weight 155#)
Teammate 1: 5 muscle ups; 10 hang power cleans 15 shoulder to overhead
Teammate 2: 10 muscle ups; 15 hang power cleans; 5 shoulder to overhead
Teammate 3: 15 muscle ups; 5 hang power cleans; 10 shoulder to overhead
Unbroken and fast, anything with muscle ups makes me happy.
What was the funniest thing that happened? At the event, on the way there or on the way home.
John: There isn't one moment that sticks out completely as the 'funniest' moment. I do know that we all enjoyed the weekend.
Steve: The whole trip was a blast. Good times with great people and to pinpoint one isolated event wouldn't do it justice. However, we did buy nearly $80 worth of Pedialyte and had to explain to the cashier that the only child with us was Ethan.
What's next? Individual competition? Or team again?
John: Upcoming, we have a team event in October (here in Pittsburgh) and I will be attempting to qualify for East Coast Championships in Massachusetts.
Steve: Pittsburgh River Games in October. John and I will be teaming with Ed Hurley and Nick Cherish for this one and I am extremely excited about it. While 4th out of almost 90 teams is a solid place, missing that podium has us hungry and we are training like animals to make sure we're on top of the podium in October.
Thank you John and Steve for your time. If you see John, Steve, Ed or Nick at the gym, tell them, "Great job/Good luck but you really do need to pick up that bar … like RIGHT NOW!"
*********************************************
T2CrossFit Kids & Teens
Our Kids & Teens programs are now in full swing and filling fast. Coaches Stacey and Dana both agree that everyone is doing an amazing job and giving 100% effort, whether working for improvement, helping others to succeed or just having fun. T2CrossFitKids@gmail.com or sign up on the website T2CrossFit.com
********************************************
Fred Lowe Lifting Seminar
A couple of spots available. Fred is a incredible coach and will help anyone to improve their snatch technique. Details and sign up are on the website. Or speak with Anna or Brad.
*******************************************
FREE Saturday Community Workout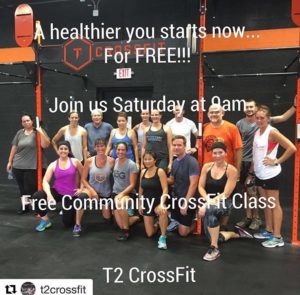 If you are unsure, come and watch, speak with the coaches and the athletes. I am sure we will be able to allay all your apprehensions.
*******************************************
Cooking Tip from Anna
Try using different oils to mix up taste … avocado oil, coconut oil, … instead of olive oil all the time.
********************************************