This week we announced the schedule for our T²CrossFit Kids program. We are all very excited to see this program develop and grow. Please see the appropriate section on the website for sign up and if you have any questions, please ask.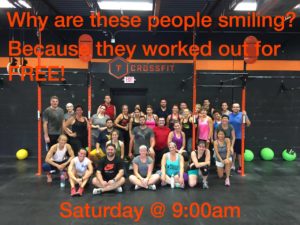 Saturday at 9:00am the box will be humming with our Free Community Workout. No CrossFit experience needed but we do use CrossFit movements.
And finally, the members' WOD is cancelled tomorrow for a very special reason. Our coaches Brad and Anna are getting married. So if you want your workout, come to the Community Workout and wish Brad 'all the best' at the same time. Normal schedule will be resumed on Monday.