Diet. This word puts the fear of God into some of us. I dislike, with a passion, dieting. As soon as I say I am going on a diet and will cut out this food, that food and the other food, I immediately crave all of those particular foods. The trouble is, most of us think of diet as a verb, a doing word, as in, "I am going on a diet".
However, diet is also a noun and refers to what we eat, how much and when? It is the kinds of food we eat on a regular basis.
(An aside: I went into a small grocery store this week to buy some soda water/club soda/sparkling water. I couldn't find any on the shelves so I asked. "Hmm," said the clerk, "we don't sell that, only flavoured soda". "Plain water?" "Nope, don't sell that either." The flavoured soda to which the clerk refered was all the sugared/diet etc types of soda – what I call 'pop'. On closer inspection, the grocery store had a tiny fresh food section – fruits, vegetables, fresh meat, no fish – the rest of the store was taken up with processed, refined foods, prepackaged whole meals etc.
I am not saying this is wrong; I am suggesting that we can do better. And that is where the 2016 Lurong Living Championship Challenge comes in. (by Joanna)
"…it combines diet, fitness, lifestyle, and accountability in a fun and engaging nationwide competition.  This is where good intentions, dreams, and aspirations are given life and the opportunity to be fulfilled."
THIS is what the Challenge is about. Having fun, while kickstarting your healthy living goals.  It is a relatively inexpensive but fun way to challenge yourself to stay on track with diet changes you choose to make, and then see how these choices really help make for a healthier lifestyle.
The challenge starts on September 12th, and runs for seven weeks.
 Over the seven weeks you challenge yourself to eat as healthy as possible.  There are three levels of eating, Beginner, Pro and Elite.  You strive for Elite but it just doesn't work for some people and doesn't work every day for others…you do the best you can and you log how you did for the day.  You don't have to log exactly what you ate, just the level at which you ate.  It will give you points based on that and your goal is to score as many points as possible.
Each week, you will perform a workout too. And don't worry…since you do Brad's programming, you will not find these workouts way over your head.  Again there are three levels for the workouts.  Brad is doing the challenge and I am overseeing it so we will make sure that everyone will be able to do the workouts. I have seen what they are planning for the workouts, and I know everyone can do at least level 1.  This is the fun one, because if you perform very well on the workouts, you can submit your video of the workout and possibly win some swag.  But don't worry, you do not have to video anything…only if you would like to possibly win do you have to video.  The first two workouts are benchmark workouts.  They are your "tests".  Then there are three workouts in the middle, and then we retest the same two benchmark workouts in the last two weeks.
We will shoot to do these workouts right after the community class on Saturdays, so starting around 9:45/10am ish.  Usually we will end up running two heats, because you will partner up and judge each other.  (If you cannot make it at this time, email me on the side and we will try to sort out when to do it, as I'm sure you are not the only one).
There are also other great ways to score points for yourself and our T²CrossFit team.  You can submit recipes, submit photos, etc.  I will have a calendar printed out and put up at the box so that you can see what to do when which will assist in working out how you can score the most points for yourself.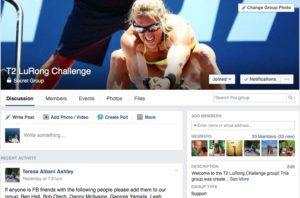 And finally there is a 
T²CrossFit Lurong Challenge Facebook
page set up (by Teresa Albani Ashley) for everyone to stay in touch and keep pushing each other to stay on track and to share recipes and photos and just all around encouragement. If you are not included yet on this FB page, let Anna or Joanna know and we will invite you into it.
Please don't be hesitant to come talk to me about any questions you may have. And I mean ANY questions. (by Anna)
********************************************
If you want to improve your technique for any lift, this is a great opportunity. The clinic focuses on the 'snatch' but all lifts will benefit from the techniques learned during this training session. Only a few spots left so register soon. Talk with Brad and/or Anna for more information.
********************************************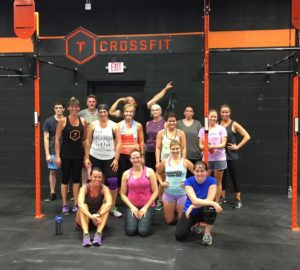 And of course our Free Adult Community workout will take place again on Saturday at 9:00am. Bring yourself; bring a friend. The more the merrier.
Have a great rest of the week and a fabulous weekend.
Joanna
Team T²CrossFit