(Written Monday 25 July 2016)
What a week!  It was busy! hard! Exhausting! But so much fun at the same time!  I cannot thank everyone enough for their support and cheers and good luck notes through the week!  10th Fittest Woman in the World…wow!
I apologize for not writing Saturday evening, it turned into such a late night and we had an early morning on Sunday that I needed to recover and get some sleep.
So that being said, I'll start with Saturday's program.  It started with the Climbing Snail.  We had three rounds of 400m run around the berm, then two rope climbs, 40′ push of the 400 pound snail, then two rope climbs.  I was really looking forward to the event but unfortunately, I struggled on the first round of pushing the snail.  I figured it out in later rounds so my splits were a bit faster but I lost a bit of time on the lead pack and struggled to catch up again.
After a short cool down in athlete village, we headed to the Tennis Stadium for the announcement of the next events…or so we thought.
We entered and saw the rings hanging….ring handstand push ups!   They were up next!  Oh Man!  As Dave announced the event, it was different for each group.  Men had one wod with them in, and we had a slightly different version.  This was the first time they were showing up in the Games for us and on top of that, they were to be performed strict…Oh Man again!  I had only done about 5 strict in practice…but I had done them!
Our wod:
15 back squats at 165#
20 bar facing burpees
6 strict ring hspu
18 front squats 145#
20 bar facing burpees
4 strict ring hspu21 overhead squats 125#
20 bar facing burpees
2 strict ring hspu
As they first announced it, I figured my goal was to get to the front squats.  But the WOD went much better than expected.  I was able to hit the standard for the hspu, my judge called my reps for me and we advanced through the wod for a 7th place finish.
So I mentioned earlier that we were expecting the events to be announced.  Well one was but the other, we were told, he would announce it right before it was time to go.
So after the men finished their version of the above wod, we all gathered in athlete village, Dave Castro came in and told us we had one event that was called 100%.  It had a 5 min time cap and was going to be a sprint.  It was:
40 box jump overs 24″
20 D-ball over the shoulder at 100#
And a sprint it was…with seconds separating the field. I finished the event with a 12th but I was a little frustrated as there was a mis-cue at one point between my judge and me but it was a fast event and the tension was crazy and it happens.  I was able to fight back from the early mistake and made a move through the D-balls to catch up and pass some of the field to finish second in my heat which was a good feeling.
And that was a wrap for the night.  It was off home for recovery and food and sleep!!!!
The next morning….the last day…came very quickly.  We had a 8:20 briefing so I woke up early to make breakfast and get my stuff ready for the last day of competition!  And boy did it feel like it!  Ever had those days where your face just feels puffy and swollen from being so tired!  I had that going!
The 'first event' was the three sprint events back-to-back that had been announced over Instagram before the Games by Dave.  It was the 280′ handstand walk, shuttle sprint, and the plow drag.
I talked to Brad and we figured out strategy.  The HS walk, we were to start out with a 40′ walk, then break it into 20′ sections.  At one point I missed the 20′ line to drop at so half way through I ended up doing another 40′ section, but I was able to hold on so it worked out.  I finished 15th in this event.  It was for sure not going to be my strongest event but it was going to be something I knew I could do ok on.
Next was the sprint…well as most of us know, I'm not a sprinter so that didn't go fantastic but I did pass some people right at the end 🙂
And then it was the plow!  This was an event at which I knew I could do well.  Time to dig deep!!
The plow was a butt burner.  It was an awkward object to pull.  We had to start with our hands on our head so everyone could grab the plow at the same time. Then it was put the head down and drag!  Everyone started about the same speed then one by one I could see out of the corners of my eyes people drop back.  Keep going! Ignore the burn, ignore your body telling you to stop.  Just drag to the end line!  And my time was good enough for 5th.
We got a very short break before it was back to lining up to head to the Tennis Stadium for the announcement of the final two events.  The Rope Chipper and Redemption were the names of the two events.
The Rope Chipper I was very excited about!
200m ski erg
40 heavy double unders
200m row
40 heavy double unders
0.4 mile assault bike
40 heavy double unders
200m row
40 heavy double unders
200m ski erg
Sled pull (can't remember the weight but not light)!!
Than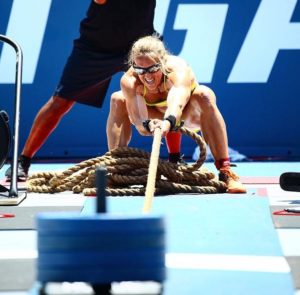 kfully my sponsor Rx Smartgear makes a heavy jump rope that we have been using in wods so I knew what it felt like to do heavy dubs in workouts and the cardio side of it was not too bad either.  I had an incredible race with Chyna Cho and it came down to whose toe stepped across the line first.
We battled the entire WOD, trading reps back and forth.  It literally came down to who could turn the fastest after their sled touched the finish line and cross the time chip line.  I managed to edge her out by 0.16 second.  Our little race pushed us way ahead of the rest of our heat and ultimately everyone else in all the other heats as I finished first and Chyna second in the event!  It felt great to finally have an event win.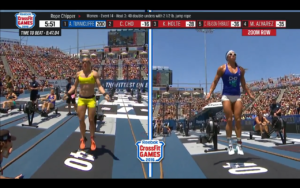 Especially heading into the final event.
3 peg board climbs
21 thrusters 85#
2 peg board climbs
15 thrusters
1 peg board climb
9 thrusters
I had practiced the peg board a little and knew I could do it but was nervous about how many we had to do.  My goal was 1!  I know it sounds silly but last year I failed miserably.
In warm up, I did some accents of the board and they actually felt quite good so began to feel a little better about it after that.  I went out on the floor to give it my best and to enjoy the last workout of the week.
The workout started and I got my first pegboard climb…woohoo!   Be patient I told myself.  Don't rush it.  Make sure you can hit the next one.  And I did!  2 of the 3 down!  And the final one complete!  On to the thrusters.  I paced myself through them so that I wouldn't tax my arms for the next climbs.  Then it was back to the board.  And I found an even better way to climb and it felt easier.  Four climbs total done!  Watching the clock, I knew I had to hit the last one and get some thrusters in so I counted down to go time in my head and knocked out the 5th climb and ran to the barbell and managed 3 thrusters…enough for 17th overall in the workout.  I was overjoyed that I had hit 5 climbs!  And a little sad that I had figured out what felt good just a little too late..but now I know for next time!
And then it was the waiting game for the results.   We were waiting to see who was going to be crowned champion and I was waiting to see if I had made my goal of top 10!  And finally, after what felt like an eternity of 10 agonizing minutes though I'm sure it was about 3 minutes, the scores popped up on the board and there I was, 10th. Woohoo!!!
I can't describe how good it felt to reach the goal. It has been a tough year mentally, emotionally, and physically and this was an amazing way to finish!  I have so many people to thank and I'm sure I will even miss some so I'm sorry if I do.
First I need to thank Brad for being an incredible coach, partner and my rock through not just the Games but this whole year!  Next I want to thank my parents for being just the straight up best parents there are.  For always supporting me in my crazy dreams and goals and being there for me!  My team that kept me healthy, or as healthy as possible through the training process!  Starting with Paul Brach at home in Pittsburgh PA and Antony Lo for working on me at the Games!  Also my teammates who suffered through brutal workout after brutal workout to get me ready!  And for all my T²CrossFit family and Anna's Army – all who cheered for me from near and far all season long!  #bestcommunity.  And finally my sponsors who keep believing in me and providing me with the best products so that I may be at my best.
Bradletes, LLC
Masimo
Inov-8
AboutTime
LuRong Living Essentials
Skins
Therologix
FitAid
Rx Smartgear
RomWod
Exosleeve
Crossover Symmetry
Normatec
Kaenon
Thank you all!  Now onto relaxing for a few days!!
Anna
T²CrossFit