(Written Friday, 22 July 2016)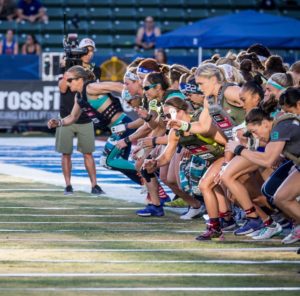 Today was another long day but we did get to take a nap in the middle.  I'm sorry for not writing yesterday but it was a fairly uneventful day aside from the morning swim. So I'll start with that and then dive into today.
The swim yesterday was a 500m swim with ALL individual athletes…all 80 of us.  We had a 7am call time at the hotel after getting to bed by 1am the night before….
Oh, so let's jump back to that quickly…after I sent my blog post about getting on a plane earlier than expected, everything still ended up being delayed.  The most frustrating part was after we landed at LAX, there wasn't a gate for us or two planes in front of us, so we sat for a good 45 mins on the runway waiting for one.  Anyway, we eventually got one and finally made it back to the drop off point for the busses at midnight.
So, back to Thursday. We met at the hotel at 7am to get our brief. We knew we had a swim but we didn't know where it was to be held or how exactly it was being run and if we had anything else, as in additional movements, with it. We were given the course details and location details and shortly after, we headed off to Redondo Beach. Once we got there, we had a quick run around of the course with Dave Castro and then the head lifeguard talked to us about the water and waves (and assured us there were no sharks). The initial plan was for the girls to start 30 seconds after the men, but that plan changed back and there was to be a mass start with the guys in the front line and the ladies in the back.
And it was a fight. There was pushing, kicking and all sorts going on – 80 people on a 500m course is a lot of people.  I wasn't the fastest sprinter on the sand and was one of the last people in the water but I took my inside route and worked my way out through the waves quite well and when I rounded the first buoy, it wasn't too crowded.  Then we had straight away of 250m where I was able to settle into a pace and pass  some more people. As I approached the final rounding mark before we headed back into the beach, I felt someone starting to grab at my ankles. I kicked back to try and shake them off and then there was a big grab to pull me under. I wound up with my leg and kicked whoever it was as hard as I could to tell them to back off and they did after that.  As we headed back into the beach, it was all about wave management.  The waves were BIG! I got tossed around on one that made me lose a couple of people I think but then again, I had no idea where I was in the race so I'm not entirely sure what the damage was. Then it was a sprint to the finish. It was then that I realized I crossed the line as the 6th place girl. I was happy with the score considering it was a chaotic race and didn't know what was really going on anywhere.
Shortly after the race, we were all grouped together and informed that we had no more events for the day, just our orientation at the StubHub center and were told to rest up, which we all did!
At the orientation on Thursday afternoon, we were briefed on the first two events for Friday's competition. These first two we already knew about, Murph and the Squat Clean pyramid. Then they dropped the news that Murph would start at 7am for the ladies! Another early morning. But then the second event wasn't until 3:30pm so we were able to go and rest up and relax before the afternoon fun started.
Friday, then, started with a 4:45am wake up call to get dressed and out the door and to be able to warm up for Murph.
Murph: – with a 14# vest
1 mile Run
then 5 rounds of
20 Pullups
40 Push ups
60 Air Squats
then
1 mile run
The event started quite well, and in general went ok…most importantly my arms still worked after it.  I lead the field coming back into the stadium after the first run, but my pushups are not a strong suit for me, so I lost a little ground on those.  I was able to catch about 4 runners on the last run and I think I finished around 17th place.  Not exactly what I would have liked, but I wasn't broken this year after it!
Then it was home for more breakfast and a nap.  We had to be back at the StubHub for 
1:15
for an event announcement at 2 for the final event of the day.  We were escorted out onto the Tennis Stadium floor where Dave announced that since the public voted for Heavy DT last year, they were also voting for Double DT this year.  So the final event for 
Friday
 was Double DT
Double DT:
10 Rounds of
12 Deadlifts
9 Hang Power Cleans
6 Jerks
at 105#
But first we had a squat clean pyramid to do.  The event was run similar to our regional snatch event.  We had to complete 10 reps at the opening weight, then 8 reps at the next weight, then 6, 4 2, with each round increasing the weight.  Our opening weight was 165#, then 180,195, 205, 215. We had 2 mins at each weight to hit the number of reps or the workout was done. I'm not strong relative to the field when it comes to strength events, so Brad and I focused on me and my timing for the event.  My goal was to make it to the 195 as I didn't really think that I would get there.  But I stuck to our timing plan and found myself moving onto the 195 bar.  I picked it up and hit the first lift, then the second, third and fourth.  I had about 45 seconds left to hit my last two and I was feeling good and didn't want to rush them so that I could hit them and then advance on. But it wasn't meant to be. I dropped the first attempt at my fifth lift on the catch at the bottom.  Time was ticking away.  I caught the next one, but struggled standing it up and didn't make it, so I finsihed the workout early with 4 lifts at 195.  I was initially bummed by it because i was feeling good about how my lifting was going but then I took step back and realized that that was farther than I had expected so I was happy with that.
I was however randomly selected for a drug test immediately following that event so after I came off the floor it was straight to the drug testing room.  For those of you that CrossFit, as you know, you always  have to pee right before a workout but after, you no longer have to pee.  This was the same situation.  But fortuatnely i was able to squeeze out just enough to fill the cup and was only there for about 45 mins after the event.
I headed back to the Athlete village where I met Brad and Antony, the physio here that is working with me.  We did a little forearm loosen to get ready for the next and final event of the night and then it was time to warm up.
Brad and I worked out a good plan for the event and I knew it was going to be a grinder event.  We headed out to the floor and it was now go time.  10 rounds of just barbell moving…not my most favorite thing to do but I was happy that it was 10 rounds and that was more in my wheelhouse.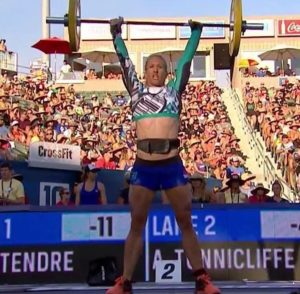 When you are out on the floor, you obviously can't look around at where your competitors are or what they are doing, but you can hear the announcers.  I could hear them talking about the two girls in the middle of the field that had taken an early lead in our heat.  And I occasionally heard my name thrown around with one or two others about sitting in the 3rd place position in the heat.  Then the excitement level started to increase as we cranked through the rounds.  The fans started to cheer more and more, the race was closing in on the early two leaders as Michelle Letendre (in the lane next to me) and I started to pass them up. Then the race was taken over by Michelle, and I moved into the second place position.  I fought hard and tried to continue to move the barbell as fast as I could and was able to finish second in my heat.  I was extremely happy with that finish, as it felt like one of the better events I had done this week so far.  I was disappointed in myself as I had to veer off the plan slightly for two rounds as my jerks started to get a little wobbly, but it still worked out pretty well.
Quick ice bath, head home, eat dinner and off to sleep.  
Saturday
 is a little later start, as we don't have a meeting until 
11:30
…woohoo!  but then its going to be a long day after that.
Thank you again to everyone cheering me on.  It means so much to me and I can't thank you all enough!
Anna
T²CrossFit