(Written Tuesday evening, 19 July 2016)
Tuesday was a pretty relaxed day as far as what we had to do but we all were anxious for any announcement throughout the day.
I woke up quite early, fortunately, managed to get a little work done, ate breakfast and then headed to the StubHub to meet up with Antony to do a little prep work on the body. Once finished there, we met up with one of our long-distance #bradlete athletes, Lisa, and cheered on her athlete whom she is coaching.  It was great to see the masters compete; it made all the excitement a little more real.
After that it was lunchtime. So back to our room to eat and relax before heading to the gym for a little work, all the while waiting in anticipation for the still-unannounced workout(s) for Wednesday.
Then it was time for this mystery fitting that was announced yesterday.  We knew it was for vests but we didn't know it was for 5.11 pants too (tactical pants). Additionally we got goggles and caps. And still, that's all we knew.  More
would be announced that evening at the athletes' reception for sure!!!
….well sort of…
At the reception we were welcomed and Dave went over some of the team events.  And wrapped up the evening with, "Oh…Individuals. Right now you are going to go into that room for some details and you need to be at the hotel lobby no later than 3:30am.  Go have your meeting then go home to bed."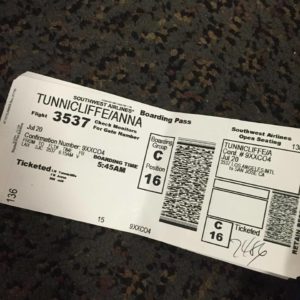 Our meeting was us being given a piece of paper on which was a list of all that we should bring for the next day and that was it….see you tomorrow morning!
And so we are still in the dark….
3:30am bright and early (but still dark, no pun intended) and maybe we will find out something….
Good night for now!
Anna