A short week for some folk and it's Friday again. I hope it has been a good one. It's been a hot one for working out and storms are rolling through as I type.
Last week, however, in the few days leading up to 4th July, one of our members, Daniel Blevins, undertook 5 days of pretty grueling workouts, all while sat on a bike. I'll let him tell you a little more of what he did, which was really pretty huge.


The ride was 335 miles from Pittsburgh to Washington DC.
Would you briefly describe the route?
• We started from Veterans Leadership Program on Carson Street. We then got on the Great Allegheny Passage Trail, which runs directly behind our building. The GAP Trail took us all the way to Cumberland, MD; where we then got on The C&O Canal Trail. The C&O Trail took us all the way into D.C.
With whom did you make the trip?
• We started out with 20 veterans from Western PA, but had a few drop because of medical reasons. In the end we left with 19 cyclists, with the majority being veterans.
You rode to raise money for the Veterans Leadership Program of Western Pennsylvania. Would you elaborate on what this charity does?
• The mission of Veterans Leadership Program of Western Pennsylvania is to provide essential housing, employment, and vital support services to eligible local Veterans, service members, and their families with the goal of improving their self-sufficiency, sustainability, and quality of life.
Would you like to share the worst point? And best point? of the journey.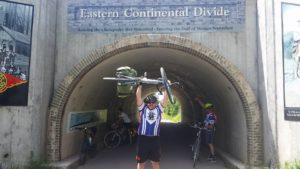 • The worst point of the journey has always been in the middle of day two. It's a constant uphill for about 50 miles to the Continental Divide. Usually about 20 miles before the divide, everyone gets tired, sore, and hungry.
• The best point of the ride was the entire last day. The forecast had called for 4inches of rain along our entire 72 mile stretch. The rain was supposed to start by 9am and continue all day. Instead of cancelling the last leg of the trip we all agreed to wake up early and try to get as close to D.C. before the storm came. The whole group pushed themselves harder than they had in a long time. We were able to keep up at 15mph pace the entire 72 miles. We made it to the finish line and as soon as we crossed it started pouring. It was amazing to get all 19 people across the finish line before the storm.
Have you done this ride before?
• I have done the ride 4 times before this one. However, not all of them were successful. We had to cancel last year's ride because one of the cyclists got lost and we had to call Search and Rescue. It took all night to find her and everyone was too tired to continue the next morning.
We often hear that the hardest part of starting CrossFit is publicly walking through the door for the first time. Once you declared you were going to make this trip, did you ever question yourself/your ability to complete the journey?
• I am always questioning if I will make the journey. It is such a long trip and it only takes one thing to go wrong to ruin the whole trip. An unexpected storm or a mechanical issue with the bike and your trip could be over. As far as my personal ability to complete the journey, I question that every spring when I get back on my bike after a long winter.
Once you crossed the finish line, how did you feel?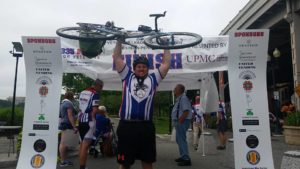 • I felt relieved. This year I did this ride as not only a participant, but as the organizer. When you have a group this big it can be hard to work out the logistics and make sure
everyone had a great time. Having everyone cross the finish line together took a huge weight off my shoulders.
Will you do again? Or is there a different challenge awaiting you?
• I will do this again. We had such good feedback and support from the community that we decided to turn this into a yearly event. Of course, there is still another challenge awaiting me and that is The Crucible. It's a 70.5 mile hike on The Laurel Highland Trail. It takes place over the September 11th weekend.
How do you think your CrossFit training helped you throughout your ride?
• Crossfit is probably the best way to train for this ride outside of actual cycling. Training for a 335 mile ride can be tough, because who has the time to constantly go on 100 mile rides? Having 3 kids under the age of 2 really takes away my time on the weekends, so getting on my bike for 6 hours can be challenging. Also, with Pittsburgh winters being so cold, you can't really get training in year round. I find that crossfit is a great alternative. It strengthens everything you need for a long distance bike ride. Since starting crossfit I have never had an issue with my legs giving out on the bike ride.
Wow. Congratulations to Daniel and all of his fellow riders. And good luck for the 11 September weekend.
Have a great and safe weekend.
Joanna
Team T2CrossFit