You've worked hard this week and now it's time to celebrate the holiday weekend. The coaches are gearing up for another great Free Community Class (no experience needed) on Saturday at 9:00am, and for our first Saturday Members WOD. Will it be individual? Will it be partner? Team? Mixed? All girls? All boys? Hero WOD? Or one of Coach Brad's specials? Who knows? Only Coach Brad and he's not sharing. If you want to find out, be at the box ready to go at 10:30
Thank you for all your efforts in helping to keep the gym clean. Please continue to wipe off the chalk from the barbells (otherwise it gets into the bearings and makes a really goopy mess) and to mop your chalk marks off the floor. It all makes such a difference. If any of the 'wipes' containers are empty, ask Coach. Or Paul or me, if we are around.
Try to make sure you log your scores on the WOD Blog page; sign in to your account. Write a comment. Give an answer to the QOD. This is for everyone in our Community. (Logging your scores also helps you keep track of weights and movements you have used/done in the past and to chart how you are progressing and improving.)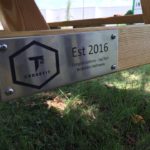 If you have been to the gym this week, you might have noticed the new picnic table under the trees by the front door. This was donated to us by Joe Yost, Berkshire Hathaway HomeServices, to celebrate the closing of the deal on the property that is now T2CrossFit. Feel free to take a moment to 'chill' under the trees before or after your workout. It's a good place to sit and recover – I know, been there, done that.
Because Monday is 4th July, the gym will be open for one class – 9:30am  All members and drop-ins welcome. And if you feel so inclined, you may wear Red, White and Blue.  Normal schedule on Tuesday.