2016-06-25
I hope you had a good weekend; managed to get in a little exercise, stay cool and relax. Seems as though it was a weekend for weddings. Two of our members, Marc Kanski and Aylesa Stevenson got hitched – super congratulations to them. Functional fitness = dancing all night long.
And neither of them 'lost it'. Woo!
We held our first Free Adult Community Class on Saturday at 9:00am. We had a magnificent turnout – a mix of members and friends coming to see what happens. By all accounts, it was a great success and I know with our Community we will continue to build on it. So thanks for coming. Next week, same place, same time.
Kudos also to the members who came in Friday afternoon to the Open Gym and still did the assigned Strength and WOD.
If you haven't yet seen, we did get in some T2CrossFit shirts and tanks. Most of them have already gone but I am re-ordering so please bear with us. Thank you. And if you have any special size request, please let me know asap.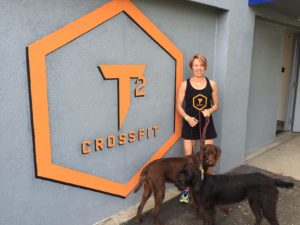 Lastly but by no means leastly, on Saturday 2 July at 10:30am will be holding our first Members' WOD. To attend this you must be, obviously, a paid-up member of T2CrossFit or a drop-in with CrossFit experience.
Have a great week. Remember to stretch/do ROM movements and drink plenty of hijklmno (H2O)
See you at the box.
Joanna
T2CrossFit Team
T2CrossFit.com
412-277-5922