"The needs of our Olympic athletes and grandparents differ by degree, not kind. One is looking for functional dominance, the other for functional competence." – CrossFit Training
Seriously though, when you should start? How about now? It isn't too late. You are not beyond redemption. There is hope for you. How many more clichés would you like me to spout? And the, "but I'm not athletic" excuse doesn't work either. You don't have to be athletic. You just have to want to help yourself and move. And we can help you with that.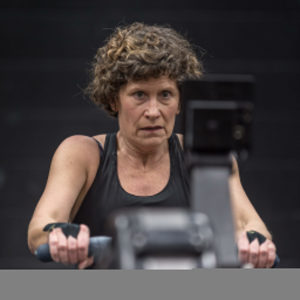 Over or under 40, makes no difference but for us older folks who need more persuading, here are 8 reasons that make CrossFit a good fit for you.
You can start at zero.
Your metabolism will skyrocket.
You'll tone all over (but don't have to get bulky).
You can start slow.
It'll give a boost to your social life.
You'll become a better parent.
It keeps joints happy.
You'll reduce your risk of injury.
For specific details on each reason, check out the original article, "8 Reasons CrossFit is Surprisingly Perfect For 40+" – Prevention
And please, watch this video: "My Gran Does Fran"
If Gran, aged 95, can do it, ..… So are you going to come and try CrossFit? Or maybe one of our Sunday classes? 
*****************************************
3rd Annual Holiday Party: Huge thank you for all the wonderful support and generosity. A total of $1,100 was raised for the WarriorDogFoundation.
*****************************************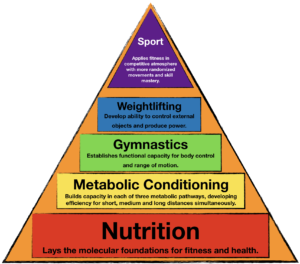 T2 Fitness Cycle: A little dickie bird tweeted in my ear that there will be a mid-week Cycle class on Tuesday, 18 December at 10:30am. If you would like to try/take the class, please sign up/sign in to reserve your bike. 
Details from Chris Mayhew about the class at the end of the blog/email. (No Cycle class on Sunday, 12/16/18)
*****************************************
LuRong: Register for the New Year's Challenge. Coach Matt Erisey has the answer to all your queries, concerns and questions. 
*****************************************
Saturday, 15 December 
9:00 FREE Adult Community Class – no membership required
10:30 Members' WOD
Sunday, 16 December (T2 Fitness classes – no membership required)
8:00 SWEAT (Ladies only)
9:00 No Cycle on Sunday
10:00 Row Zone!
*****************************************
SWEAT/CYCLE/ROW ZONE! : For more information, make sure to follow our page on Instagram (search: Top) t2_fitness_   (search: People) @t2_fitness_   #tag us: #t2_fitness_
****************************************
***T2 Fitness classes : no membership required***
****************************************
Joe Yost: some of you may know him; some of you may know of the legend. Either way, he really is a nice guy. He is organizing a fundraiser, 2/9/19, for our Coach Anna and her helm, Paris Henken, to help them get to 2020 Olympics, Tokyo. Please scroll to the bottom to read his pitch. Thank you.
****************************************
Today's Fun/Trivia: Just a couple:
It takes 70 muscles to speak a single word.
People who are physically inactive can lose as much as 3% to 5% of their muscle mass per decade after age 30.
People in Sweden refer to interval training as fartlek, which means "speed play."
On average, every minute you walk extends your life by one and a half to two minutes.
"Fun Fitness Trivia That May Surprise You"
Be safe. Try to stay warm and dry.
Joanna
T2 CrossFit Team
**************************************
*Outside The Box:
***Saturday, 5 January 2019: Kettlebells4Kids @ T2 CrossFit
Event being organized by T2 CrossFit Teen, Maggie, for her social service project. She has set up a donation page – T2 CrossFit : Athletes for Homeless Kids. Please visit the page now and T2 CrossFit on 5 January. 
"Did you know there are an estimated 2.5 million homeless children in America? Nearly 40,000 are right here in Pennsylvania. kettlebells4kids.org
*****************************************
*******Chris Mayhew
There will be a Cycle Class Tuesday 12/18 at 10:30a
Many of you have mentioned that you can't make the Sunday Cycle class. Brad and I would like to introduce a midweek class to make the class more widely available. If you look at the fundamentals of Crossfit metabolic conditioning is second only to nutrition. My goal with every class is to make you better not only on your next row or run, but on the next long metcon as well. It's a low impact activity so it's a great way to improve yourself without a lot of wear and tear. And it's just hard enough to be beneficial but not so hard you can't do a wod before or after. And if you have questions about doing a wod and Cycle in the same day I certainly have thoughts on that and would love to chat with you about it.
See you next week!
****************
*********Joe Yost
Hey everyone, most of you know me and for those that don't, I kinda do really good at 20% of the Crossfit stuff. The other 80% of moving around is what is tough for me. Some call me BTBM, well at least Brad does along with Jen L who isn't even on Facebook so good luck confirming that. Anyways, this isn't about me, it's about our awesome coach Anna. More than likely because she is so humble, you may not even know that she is currently training and trying to qualify for the 2020 Olympics. Not the Row Row Row your boat qualifier on the Mon River, the FREAKING OLYMPICS in Tokyo! You better already know that she was a Gold Medal Olympian in 2008 and my people in the know say they are thrilled she is back in the US sailing game. With that being said, besides the enormous amounts of time and effort (X 1,000) to get to the Olympics it also costs money…. lots and lots of money. Think about it, even getting a boat to Tokyo is kinda crazy- she has 2 to get there. The Fedex charge on that alone has to be simply stupid. This doesn't include any of the lodging, travel, food, training, dealing with Brad etc. So, all I have to throw out there for now is – SAVE THE DATE Feb 9th 2019 for an EPIC fundraiser at the Box. There will be ways to contribute without attending but my guess is she would love to see you there. Stay tuned for further info on this page but because some of our members are not on FB I will be doing most updates through email. So, if you are interested with further details, updates, or would like to help pull this off please shoot me an email to joe@YostTeam.com to be included. I have reached out to some already for help pulling this together but if you have ideas or want to help reach out to me- PLEASE! This is going to be a team effort and every penny is going to go to Anna and her teammate Paris who is traveling here to be a part of the shenanigans. This is going to be opened to the public, so basically anyone I can get money from. I am hoping this gets to an epic level that the SF Police Dept has to show up. You know what Ill do when that happens?…….ask for a donation to get in.
****************************************
FitAid: please pay for the cans you take. You can now charge your cc charge purchase (2 cans minimum) through the Gym Store on your account. There are step-by-step instructions next to the computer if you need help.
****************************************
Grocery bags: still collecting, still making mats, see the one at the gym.
****************************
Thank you for reading the blog on the T2 webpage. If you would like to receive it by email, please scroll down to the bottom of the Home page and Join Our Mailing List by entering your email address.
****************************