I was reading an article the other day about exercise input : output : results. And if I understood it correctly, it said that if a group of athletes/people workout using the same numbers on a monitor, they won't necessarily obtain the same results, level of fitness. 
The idea that some people just don't respond to exercise the same way as others was put forward. But obviously the researchers were skeptical about that idea so they delved further and found that it was a lot to do with levels of lactic acid produced in the body. 
To cut a long story short, it was found that at a 'given number on the monitor', not everyone is working as hard as each other. So the researchers tried to come up with a good, easy-to-use reference point by which athletes can judge their effort/performance. It turns out that the 'talk test' was pretty accurate. The Talk-Test: if your workout is bordering on the anaerobic type (read CrossFit workouts), if you can talk at a more or less normal conversational rate then you need to work harder.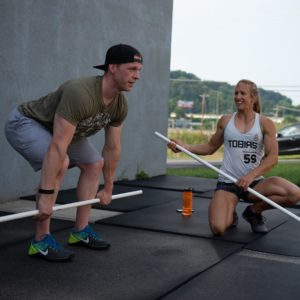 If you have no-one with whom to converse, try counting from 1-30 out loud and see what happens. And if your coach strongly suggests that you speed up somewhat, he/she just might be right.
Speaking While Exercising : Not If You Want To Get Fitter
****************************************
Which brings me nicely to a lesson learned the hard way this week: If it says 1 tsp 3x per day, this doesn't mean have all three tsp in one sitting. Follow the directions. Listen to your coach. Too much too soon will probably have serious consequences.
****************************************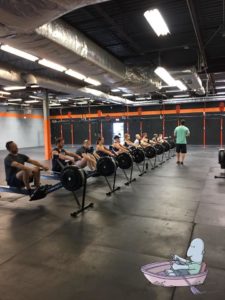 !!!NEW!!!     Row Zone!  👏 👏 The class we have all been waiting for begins this Sunday, 23 September at 10:00am. The class lasts 1 hour and costs $15. It will be a regular feature from now on. This is not so much about correct technique (you should already have that from the Row Clinic) but about rowing efficiency and building endurance. Don't forget to sign up. 
(Prerequisite: must have attended the Row Clinic. The next clinic will be 13 October.)
*****************************************
Lurong Championship Challenge is underway. The first workout will take place on Saturday at 8:00am. Doors will open around 7:30am to give you time to warm up and get equipment set up. Good luck. Remember to speak with Matt Erisey if you have questions or concerns.
*****************************************
And, CrossFit Team Series : Registration is Open until Monday by which time you will have to have completed all 4 of the workouts and submitted your scores. The series runs from 19 September, when the first round of workouts will be announced, until 1 October when your last results submission is due. 
It is teams of 2 – male, female, mixed, 14-17 yr and 35+ masters, and there is an Rx division as well as a scaled division. If you are interested, speak with Brad and read more about it on the CrossFit Games website. 
****************************************
Thank you all for your patience last weekend. Normal schedule will resume beginning on 
Saturday
9:00am    FREE Community Class – no experience; no expectations, no judging; just you
10:30am    Members' WOD
Sunday
8:00am     SWEAT – ladies only; you, a water bottle and your attitude 
10:00am     Row Zone! 🚣‍♀️ 🚣 🚣‍♂️
****************************************
FitAid: please pay for the cans you take
Grocery bags: still collecting, still making mats, see the one hanging in the gym.
***************************************
SWEAT : For more information, make sure to follow our new page on Instagram (search: Top) t2_fitness_   (search: People) @t2_fitness_   #tag us: #t2_fitness_
Today's Trivia: Did you know that pineapples 🍍, oranges 🍊, and tomatoes 🍅  are actually berries? 
Joanna
T2 CrossFit Team
*********************************************
*Outside The Box:
*Matt Miller and SPM would love to hear you cheering for them when they compete at the 2018 Arsenal Throwdown : Saturday, 22 September, Butler Street, Pittsburgh
https://www.facebook.com/events/199341144035241/
*From Matt Erisey: Tuberous Sclerosis Complex
Join Matt's Team
http://tsa.convio.net/site/TR/Events/Step_14?px=1240205&pg=personal&fr_id=1524
At two months old Issac was diagnosed with Tuberous Sclerosis (TSC), which is a disease that causes benign tumors to grow on major organs. TSC is the same pathway affecting more than a dozen diseases & disorders including autism and epilepsy. There is no cure for this disease but advancements are being made each year.  By raising awareness we are one step closer to a cure or better medical treatments.  Please consider joining our fight as a walker/runner on September 29th or by making a secure donation. 
Thank you for your time/consideration!
The event: Saturday 29 September North Park Harmar Pavilion 
http://tsa.convio.net/site/TR?fr_id=1524&pg=entry
*************************************
*From Beth Beck: Emmaus Community of Pittsburgh
Hi Friends, A friend of mine has an intellectually disabled brother who gets so much love and care from this organization. I did this race last year and would love to get a group together to participate in the fall!
The event: Saturday, 20 October, South Shore River Park 
https://www.active.com/pittsburgh-pa/running/distance-running-races/emmaus-spirit-run-costume-5k-and-1-mile-fun-walk-2018
Thank you for reading the blog on the T2 webpage. If you would like to receive it by email, please scroll down to the bottom of the Home page and Join Our Mailing List by entering your email address.