As if you haven't got enough to think about when doing a Push Press, here is something else.
I was thinking about the push press, and actually running as well, and how 'Center of Gravity', 'Centre of Mass', and 'Center of Effort' relate to these two completely different movements. Well, I did what I usually do and I consulted the Oracle – the Internet. 
I typed in centre of effort and to my surprise got links to a wine producing facility and sails. Yes, that was it. I am not saying that these are the only two topics which involve centre of effort but I stopped looking, given that neither topic was relevant to mine.
Centre of Mass and Centre of Gravity, turns out are basically the same. (Center of Mass vs Center of Gravity; I know if you go to the Moon, it changes but we are not going to be push pressing on the Moon anytime soon.)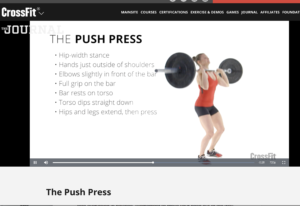 A mistake that a lot of us make which becomes more noticeable as the weight gets heavier, is that when we go for the 'dip', our torso doesn't go straight down and then up, ie we are not keeping our centre of mass balanced. Whilst the weight is light, we don't notice because we are strong enough to compensate for the bad movement. However, once we get to the point where when we pick up the bar onto our shoulders and go, "Ooff", that is definitely when the improper movement will be noticed – the bar will be on the ground before we know it.
We spend so much time perfecting our correct squat form, hips back, knees over toes, that subconsciously, this tends to carry over into our push press. 🤔 Think: the dip is not a squat; it is a dip – head stays over shoulders stay over butt stays over heels and yes, the knees go very slightly forward of the toes – and the bar will go straight down and then up with everything in balance. (Remember to move your head out of the way when you press.) This is a very simple video that maybe helpful. https://journal.crossfit.com/article/the-push-press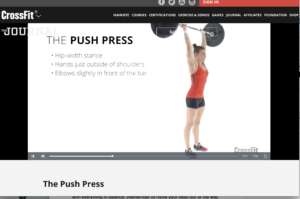 If you think about it, it is rather important to get this movement correct because every time you want to lift something overhead without risking injury, your centre of mass needs to be in balance.
Running – we'll talk about another day. 
***********************************************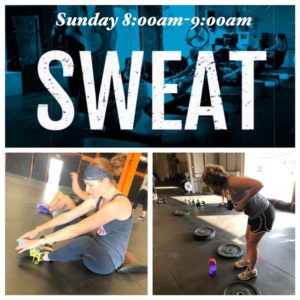 SWEAT again on Sunday, 19 August at 8:00am  Ladies, it's not CrossFit. It is Fitness. No pre-registration. $15 per class. Come on your own. Come with a friend. No membership required. Just try it, you know you want to. 💦 💦 💦  For more information, make sure to follow our new page on Instagram (search: Top) t2_fitness_   (search: People) @t2_fitness_ 
********************************************
Rowing Clinic Sundays 8/19 and/or 8/26 @ 10:00am 2 hrs of intensive coaching on correct technique and being more efficient in each stroke. Each session is $25. Sign-up sheets are on the Computer Shelf.
********************************************
While you are at the Computer Shelf, if you haven't already, how about taking up the double-under T2, Double T2 and T2's Dirty Dozen Challenge – There is still time to get it done. Score sheets on the Computer Shelf.
********************************************
Girls Gone Rx and BAM, Saturday 8 September: gather your team and register or click here on Find Tickets   
Workouts WOD 1 "Waterfall" and WOD 2 "Tag Team Diane" have been released. Both Rx and BAM movements/weights are shown in the links.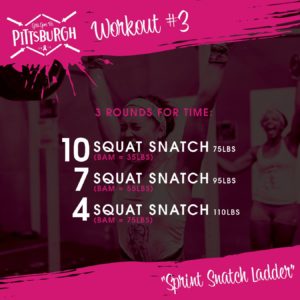 ******Update: Girls Gone Rx has just announced WOD 3 "Sprint Snatch Ladder"
********************************************
CrossFit Specialty Weightlifting Course 15-16 September
https://training.crossfit.com/weightlifting
********************************************
Lurong Summer Challenge Early Bird Sign Up runs through 27 August
Lurong Summertime Challenge: https://challengeseries.lurongliving.com/summertime18/
******************************************
FitAid: please pay for the cans you take
Grocery bags: still collecting, still making mats, many mats. You Are Awesome!
From Andrew Hartman:
So I just learned that in the month of July alone we were able to support the making of 11 mats for the homeless. These mats require 650 to 700 bags each so thats between 7150 and 7700 bags of which we (T² members) donated the lion's share. Many thanks and there is still interest in teaching how the process works for those interested!
******************************************
9:00am Saturday Community Class (Free – as many times as you want). This Saturday, come and meet our special community and coaches, and try a workout too. And the best thing, apart from the class being FREE, you don't need any CrossFit experience. In fact, you don't need any experience.
10:30am Members' WOD
******************************************
"…. Worldwide, I bet we have 3 times the number affiliates who have carved 100# off a member than have sent a member to the Games. What is the real work of the gym? It's the good stuff; it's the good stuff." Greg Glassman, CrossFit Founder
https://www.facebook.com/crossfit/videos/10155092413667676/
Joanna
T2 CrossFit Team
******************************************************
*Outside The Box:
*From Matt Erisey: Tuberous Sclerosis Complex
Join Matt's Team
http://tsa.convio.net/site/TR/Events/Step_14?px=1240205&pg=personal&fr_id=1524
At two months old Issac was diagnosed with Tuberous Sclerosis (TSC), which is a disease that causes benign tumors to grow on major organs. TSC is the same pathway affecting more than a dozen diseases & disorders including autism and epilepsy. There is no cure for this disease but advancements are being made each year.  By raising awareness we are one step closer to a cure or better medical treatments.  Please consider joining our fight as a walker/runner on September 29th or by making a secure donation. 
Thank you for your time/consideration!
The event: Saturday 29 September North Park Harmar Pavilion 
http://tsa.convio.net/site/TR?fr_id=1524&pg=entry
*************************************
*From Beth Beck: Emmaus Community of Pittsburgh
Hi friends. A friend of mine has an intellectually disabled brother who gets so much love and care from this organization. I did this race last year and would love to get a group together to participate in the fall!
The event: Saturday, 20 October, South Shore River Park 
https://www.active.com/pittsburgh-pa/running/distance-running-races/emmaus-spirit-run-costume-5k-and-1-mile-fun-walk-2018
Thank you for reading the blog on the T2 webpage. If you would like to receive it by email, please scroll down to the bottom of the Home page and Join Our Mailing List by entering your email address.