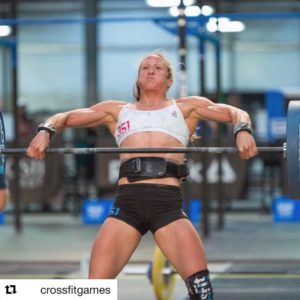 From Anna Tobias: Day one of the CrossFit Games is in the books. Competing in the Masters 35-39 division this year is a new experience. Not in anyway a bad one, as I'm having a blast and the athletes are all super friendly, it's just different.
After check in and getting our gear on Sunday, we had a fairly chill Monday. Then Tuesday was surprisingly busy given that we were told about only one thing, but busy in a good way. We had our orientation about the Games, which is where they tell you the rules etc. Then we got to see the obstacle course and test it out in a 4 min time frame, and then had a briefing later that evening.
And then it was onto day 1! I was so excited and nervous all at the same time. I was very much looking forward to all of the events. I was very nervous going into the O-course as it was the first event and it's the type of event that the smallest mistake could cost you greatly. I also had never competed against these ladies before except maybe one or two so I didn't know the field. The race started with a 500m run. We set off and sprinted around the lake to the beginning of the O-course. Sam Briggs and I were in the same heat, and we got back to the first obstacle just about at the same time. We hopped over the walls first and entered into the course. On the second obstacle, I managed to take a slight lead as we climbed over a tall wall and then onto the cargo net wall. I held onto my lead the whole way around the course and took the heat and the event win. It was a great feeling to get the event done and to come out with a good result.
The second event was the event I was most nervous about performance-wise for the day. The handstand walk was a 40ft walk with the last 10-15′ being over a ramp. I knew I could do it but was nervous about how it was going to go at game time.  After the walk, we had to do 20 wall balls and then reverse the walk back to where we started. It was a sprint event so again, small mistakes would be costly. And they were. I made a big mental mistake at the beginning and kicked up with my hand on the line. I didn't realize it, nor did I think I had done it so I kept walking and my judge 'no repped' me and I had to start the walk again. It cost me valuable seconds.  After that, the event went smoothly. I made the whole walk both times unbroken and the wall balls were unbroken and managed to pull out a decent finish, but I was disappointed and know it could have been better.
The final event of the day was the one I was most looking forward to!  Snatches and Double Unders – two of my favorite movements.  The event went just as planned. Brad and I made a plan to go unbroken through the whole event, and we did just that until the last barbell where we made a call on the floor to break the two snatches into two singles as I had a bit of a lead at that time. I took the event win; it was a great way to finish day 1.
We have a rest day today with the opening ceremony this afternoon.  Then it's three days back to back of 'fittnessing' and I'm looking forward to all of the challenges coming!
Thanks to everyone for their messages of support and cheering!!
******************************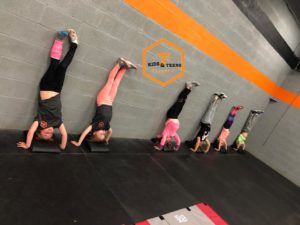 "CrossFit Kids is a method for teaching Greg Glassman's CrossFit to children ages 3-18. Based on the principle of Mechanics, Consistency and then Intensity, CrossFit Kids emphasizes good movement throughout childhood and adolescence. Consistently good mechanics translates to physical literacy, enhanced sports performance and fewer sports injuries for kids. Not only that, a vast body of research indicates that exercise is beneficial to cognitive function, which means consistent adherence to the program can have a positive impact on children's academic achievement.
CrossFit Kids is meant to be BIG fun for all ages. Broad-Inclusive-General fun. Fun means we provide an active alternative to sedentary pursuits, which means less childhood obesity and all-around better health for our children. Further, the needs of second graders and high-school varsity wrestlers differ by degree and not kind; the program is scalable for any age or experience level and accounts for the varied maturation status one can find in a class full of kids."   from: https://kids.crossfit.com
Our CrossFit Kids' classes are almost full to capacity. If your child would like to try a class (it's free), let the coaches know t2crossfitkids@gmail.com 
*****************************************
Reminders, lest you forget:
SWEAT begins Sunday, 12 August at 8:00am
T2, Double T2 and T2's Dirty Dozen Challenge going on during August.
Score sheets on the computer shelf.
Girls Gone Rx and BAM, Saturday 8 September: gather your team and sign up
https://www.facebook.com/events/1815670758444395/
CrossFit Specialty Weightlifting Course 15-16 September
https://training.crossfit.com/weightlifting
Lurong Summer Challenge Early Bird Sign Up 6 August
Lurong Summertime Challenge: https://challengeseries.lurongliving.com/summertime18/
FitAid: please pay for the cans you take
Grocery bags: still collecting, still making mats
******************************************
9:00am Saturday Community Class (Free – as many times as you want). This Saturday, come and meet our special community and coaches, and try a workout too. And the best thing, apart from the class being FREE, you don't need any CrossFit experience. In fact, you don't need any experience.
10:30am Members' WOD
******************************************
"At the very heart of Greg Glassman's CrossFit methodology is the concept of trackable, repeatable, and measurable tests of fitness. Over the past eleven CrossFit Games there have been 10 repeat workouts Dave Castro has programmed; two of those workouts show up tomorrow."  (I found this either on the CrossFit Games site or Morning Chalk Up.)
You can always repeat a workout to see how far you have come.
Good luck Anna.
Joanna
T2 CrossFit Team
******************************************************
*Outside The Box:
*Summer Sizzler, last weekend. Congratulations to Team 1 for their 1st place finish in the Scaled division: Matt Miller Ann Talarico, Hilary Hocson and SPM
Congratulations to Bill Best and his team for their 2nd place finish in the Rx Division: Bill Best, Taylor Lucian and friends
*******************************************
*From Matt Erisey: Tuberous Sclerosis Complex
Join Matt's Team
http://tsa.convio.net/site/TR/Events/Step_14?px=1240205&pg=personal&fr_id=1524
At two months old Issac was diagnosed with Tuberous Sclerosis (TSC), which is a disease that causes benign tumors to grow on major organs. TSC is the same pathway affecting more than a dozen diseases & disorders including autism and epilepsy. There is no cure for this disease but advancements are being made each year.  By raising awareness we are one step closer to a cure or better medical treatments.  Please consider joining our fight as a walker/runner on September 29th or by making a secure donation. 
Thank you for your time/consideration!
The event: Saturday 29 September North Park Harmar Pavilion 
http://tsa.convio.net/site/TR?fr_id=1524&pg=entry
*************************************
*From Beth Beck: Emmaus Community of Pittsburgh
Hi friends. A friend of mine has an intellectually disabled brother who gets so much love and care from this organization. I did this race last year and would love to get a group together to participate in the fall!
The event: Saturday, 20 October, South Shore River Park 
https://www.active.com/pittsburgh-pa/running/distance-running-races/emmaus-spirit-run-costume-5k-and-1-mile-fun-walk-2018
Thank you reading the blog on the website. If you would like to read it via email, please sign up by scrolling to the bottom of the website Home page to the Join The Mailing List and enter your email address. As simple as that. Thanks again.